Best Email Tracking Extensions in 2023
Monitor when your emails are opened and read, set reminders, and get real-time notifications when someone interacts with your message.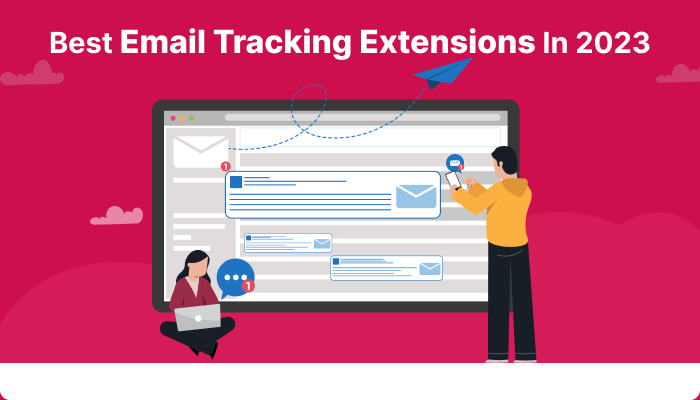 Email tracking extensions can be used to monitor the effectiveness of your email campaigns. They provide helpful details like who clicked on your emails, when, where, and how often they were opened. Using this information can help you improve the performance and optimization of your email campaigns. To stay in touch with your contacts and keep their attention, you can send automated follow-up emails utilising email tracking extensions. Email monitoring extensions make it easy to analyse, assess, and optimise your email campaigns for the best results.
Email tracking extensions allow you to assess the effectiveness of your email campaigns. Examining your contacts' behaviour can teach you a lot about the kinds of emails that are opened and the links that are being clicked. The best email campaigns and those that need improvement can be identified using this data. Additionally, you have the option to set up automated email delivery to contacts who have already opened or clicked on your emails. With their continued involvement, you are able to communicate with your contacts.
Email tracking extensions also keep track of how long it takes a contact to open your emails, which is another helpful feature. You can maximise the effectiveness of your campaigns by doing this. You can also use the data to create brand-new adverts that are tailored to the preferences of your contacts. This can help you create campaigns that are more successful and effective and produce better results.
Email tracking plugins are a priceless tool for any marketer. They provide you with vital data about the effectiveness of your efforts, allowing you to modify them for the best results. They also offer automated follow-up emails to help you stay in touch with and engage with your contacts. Email tracking extensions make it easy to track, assess, and optimise your email campaigns.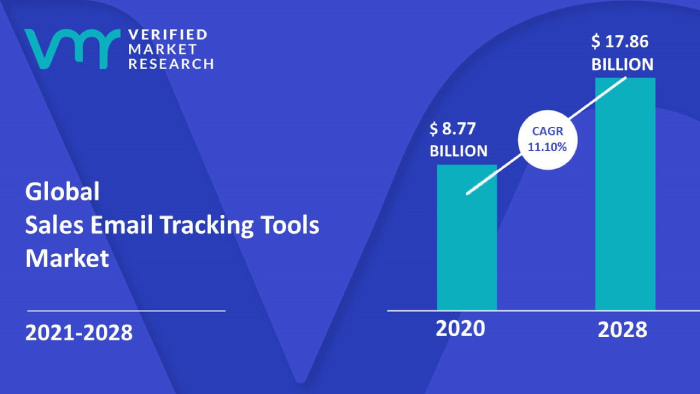 Benefits Of Email Tracking extensions
Gains in Productivity: Email tracking addons can help you stay focused on your most important tasks. You'll be more productive as a result, and you won't miss any important emails.

Better Communication: By using email tracking extensions, you can keep track of the emails you send to your contacts and receive notifications when they are opened or replied to. As a result, you'll be able to interact with your contacts more successfully.

Better Follow-Ups: Using email monitoring extensions will make it simple for you to follow up on emails that haven't gotten a response. By doing this, you may make sure that your emails are received and remembered. Better customer service: By keeping track of emails, you can quickly respond to client inquiries and guarantee that clients receive the support they need. Customer loyalty and satisfaction will consequently rise.

Savings: You can save time and money by using email tracking rather than manually tracking each email sent. As a result, overhead costs for manually tracking emails will be reduced.
List of 10 Best Email Tracking Extensions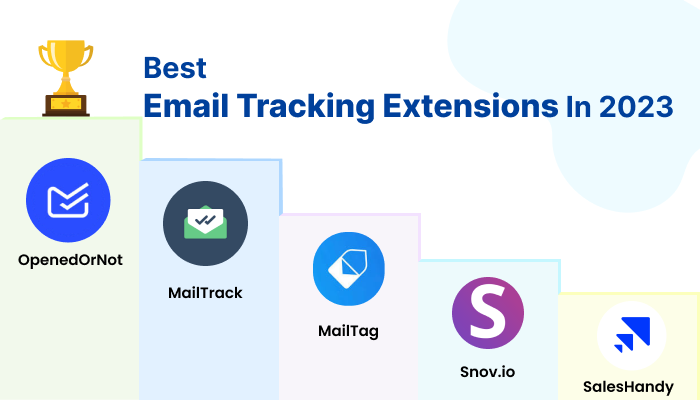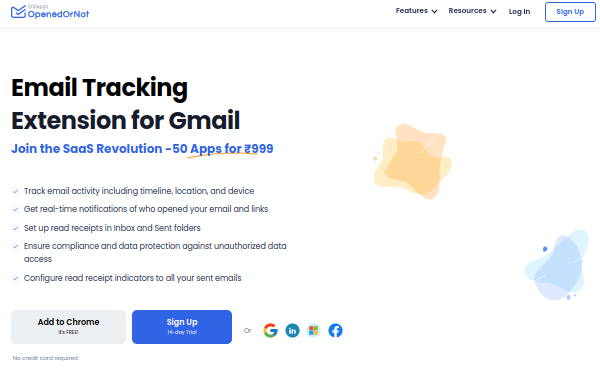 The OpenedoorNot Email Tracking Extension is a useful tool for both people and businesses. Users can watch emails sent from their Outlook accounts in real-time notifications to make sure they are delivered, opened, and read. This powerful add-on also provides complete delivery and open/read status statistics on each email sent, which can aid users in assessing the efficacy of their emails and creating a better emailing strategy. Customers can identify patterns in their email campaigns and maximise emailing efforts with the help of even more detailed analytics that are supplied.
Features
Google proxy friendly: Discover the exact time and date that an email was opened, even when it was opened over a Google proxy server, as well as the recipient's current location, browser, and read-time and -date.

Email Open Tracking: to record the opening of emails. Get immediate notifications when recipients open your emails and click links.

Read-receipts Indicators: email delivery confirmation message.To determine whether a mail has been read, look for two green ticks. To confirm delivery, look for grey ticks. You should have read receipt confirmation in every email you send

Email Reminders: Setup of automatic follow-ups. You can track the open rate of your emails without logging into your account and receive instant alerts when someone opens your email.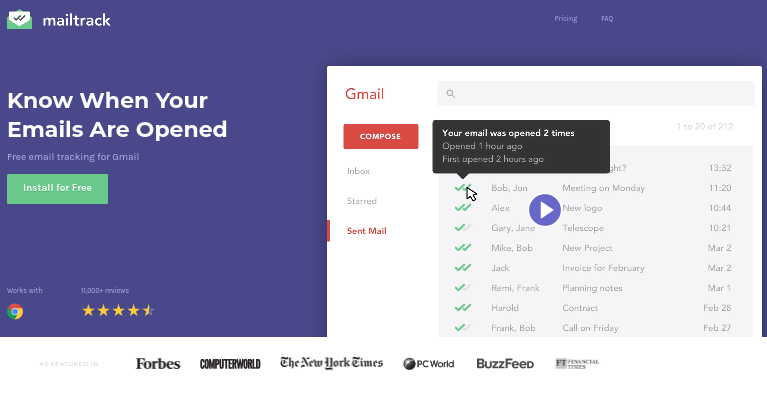 The status of their emails, including when they are opened, how frequently they are opened, and when links inside the email are clicked, can be tracked by users of email tracking extensions. This kind of software is becoming more and more common as a result of its capacity to aid users in better comprehending their email campaigns and customising their communications.
Features
Real-time Notifications: With the help of these extensions, users may keep track of the rates at which their emails are opened and clicked.

Link monitoring: Email tracking extensions give users the ability to keep tabs on the frequency and timing of link clicks within their emails.

Email analytics: Users can track important information, such as email open rates and click-through rates, using email analytics.

A/B testing: Users can compare different iterations of their emails to see which is more successful. Automation: Email tracking extensions can help with some chores that can be automated.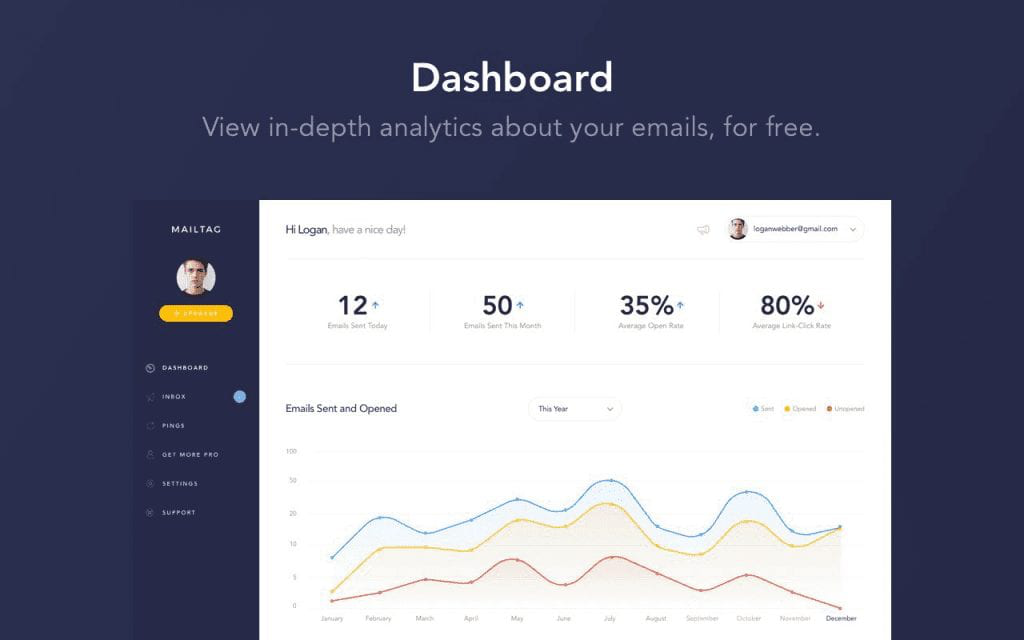 Email tracking technology is used to track emails and find out more about how receivers react to them. It allows businesses to examine details like who read emails, which links were clicked, and other information. Utilizing this data will improve email marketing, provide more exact customer targeting, and strengthen client connections.
Features
Open tracking: Follow up on who opened the email, when they did so, and what device they used.

Link tracking: Find out which URLs were visited and how often.

Click maps: Find out which parts of the email were clicked and which were not by using click maps.

Tracking unsubscribers: Follow unsubscribers to see who unsubscribed and why.

Tracking email bounces: Learn which emails bounced and why.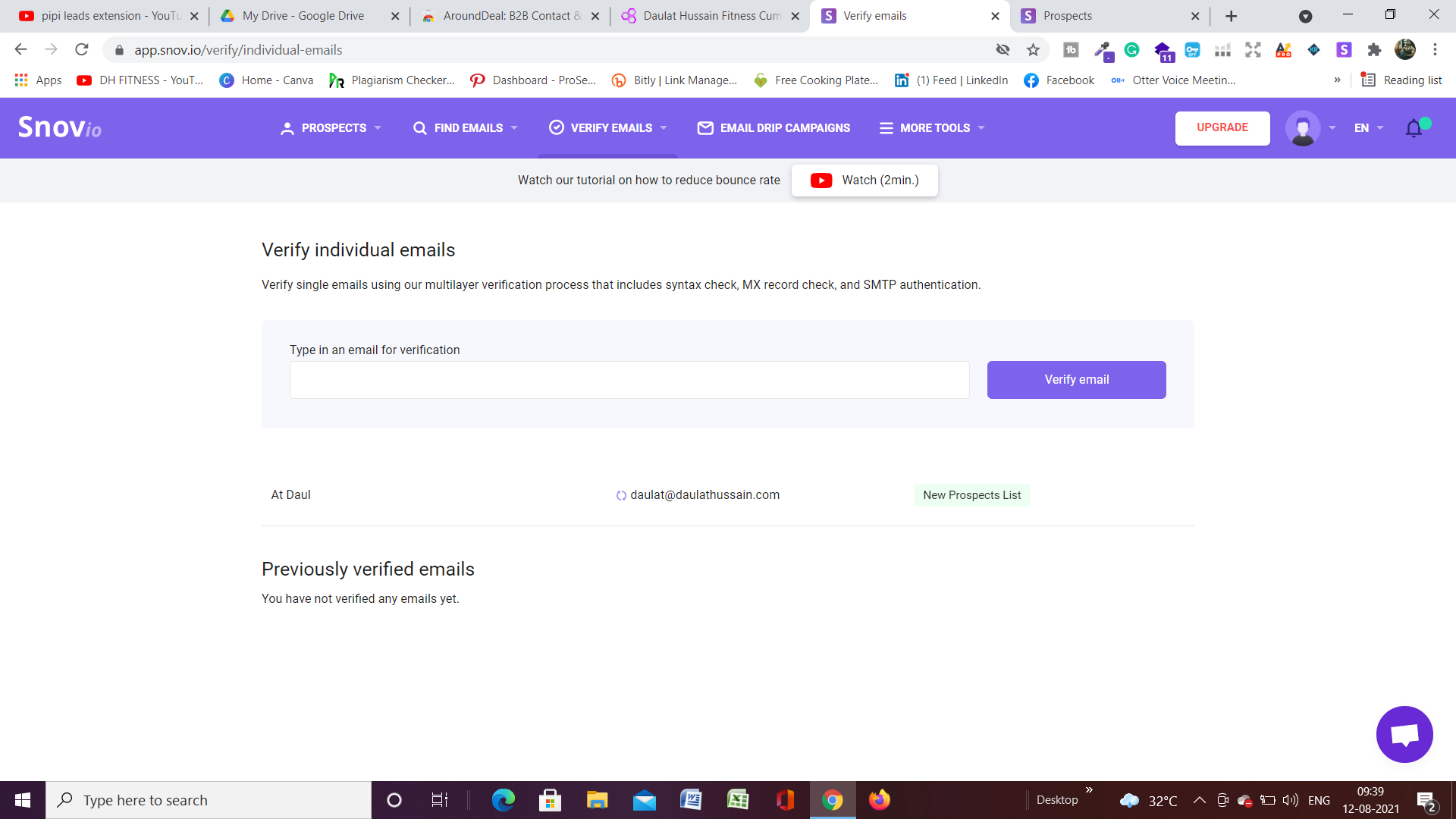 Snov.io is a powerful email tracking platform that helps customers to keep track on the success of their email campaigns. With the aid of snov.io, you are able to keep track of how many emails have been opened, how many links have been visited, and how many recipients have reacted to your emails. Utilizing the thorough data provided by snov.io will help you optimise your email campaigns.
Features
Email open tracking: lets you keep track of which emails have been viewed, by whom, and when.

Link click tracking:Track the number and frequency of link clicks in your emails by using link click monitoring.

Reply Tracking: Keep track of your email replies to see who sent them, how many people responded, and so forth.

Extensive Information: Obtain detailed analytics to help with the optimization of your email marketing.

Automation: Make your email marketing more efficient and time-effective by using automation.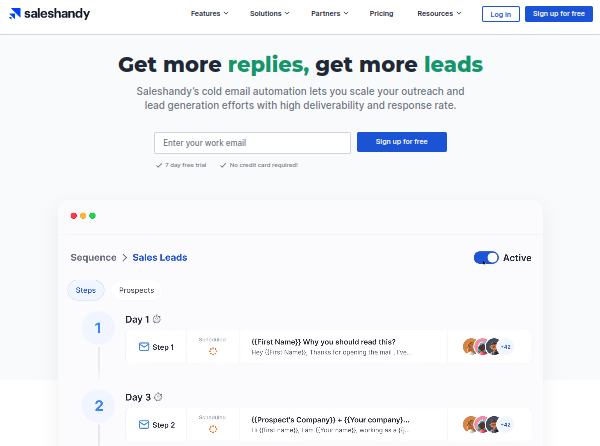 Users have the option to use SalesHandy's email tracking tool to follow emails the company has sent. Users can keep track of when emails are opened, received, clicked on, and downloaded, as well as when attachments are downloaded.
Features
Email Monitoring in Real-time: Real-time email monitoring enables users to keep track of emails and to quickly notify them when a receiver opens, clicks, or downloads an attachment.

Detailed Analytics:Users may get complete data to find out who and how are connecting with their emails as well as the effectiveness of their emails through detailed analytics.

Link Tracking: This feature lets users keep track of how often links in their emails are clicked, allowing them to see which links are most commonly used.

Comprehensive Reporting: Users can generate in-depth reports on the success of their emails and use the data to adjust their strategies.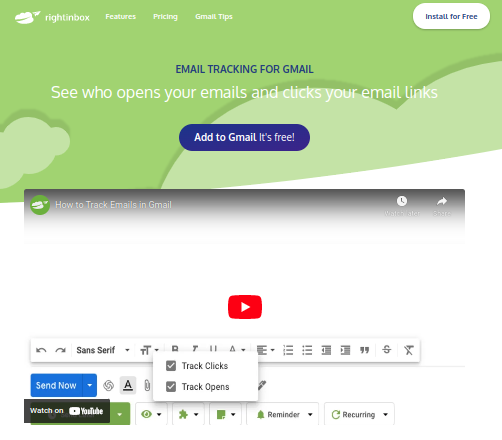 To help teams make the most of their email correspondence, Rightinbox was developed as an email tracking and automation tool. It has a wide range of capabilities that make tracking, organising, and analysing email conversations for teams working in customer service, sales, and marketing straightforward.
Features
Email tracking: Keep track of the emails you've sent, their opening times, and whether or not they receive a response with ease with email tracking.

Email Automation: Use email automation to set up automated campaigns, reminders, and follow-up emails. Automated Data:Access thorough email performance statistics, which include details on open and response rates, using automated data.

Advanced segmentation: Classify contacts into categories based on their email frequency and quality, among other things.

Email Templates: Create and use email templates to speed up and standardise your responses.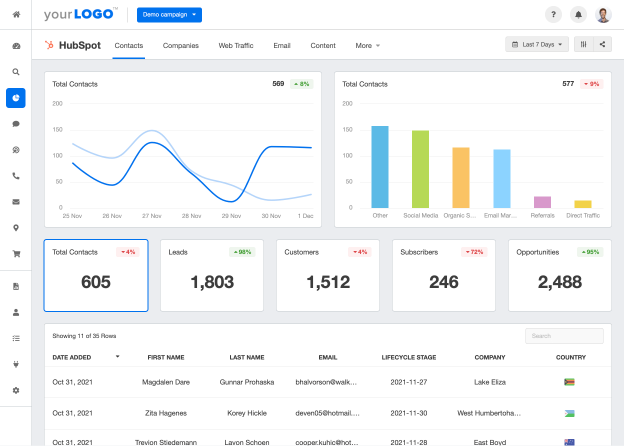 With the use of a feature called HubSpot Sales Email Tracking, users of HubSpot's Sales Hub may keep track of when a recipient opens or clicks a link in an email received through HubSpot. Using the data it provides on how each contact responds with emails, users can alter their follow-up procedures.
Features
Keep track of the emails that HubSpot has sent.

Verify whether a recipient clicks a link or opens an email.

Obtain notifications each time an email is opened or a link is clicked.

View a timeline of all events for each email sent by HubSpot.

Find out which emails are most successful in drawing in new customers.

Send emails from HubSpot that automatically contain a tracking pixel.

Enhance the tracking pixel's suitability for the look and feel of the email.

Connect to Salesforce and other CRMs to get more detailed information.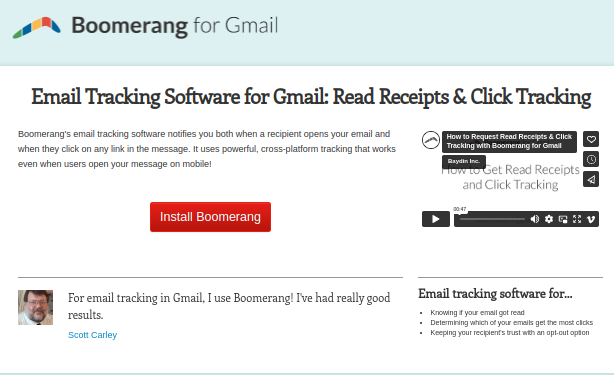 Users can monitor the status of their emails and receive alerts automatically when a recipient views one with the use of the programme Boomerang Email Tracking. Boomerang provides customers with comprehensive data about the efficacy of their emails, enabling them to comprehend how to effectively optimise their email communication.
Features
Read Receipts: Boomerang users can request read receipts from their recipients, which lets them know when an email has been read.

Scheduling: Boomerang customers have the option to schedule email delivery so that their receivers receive them at the most convenient moment.

Reminders: Users of Boomerang have the opportunity to make their own reminders, which they can use to keep track of their email correspondence.

Inbox Pause: Boomerang users have the option to suspend the flow of new emails into their inboxes, allowing them to focus on the present task at hand.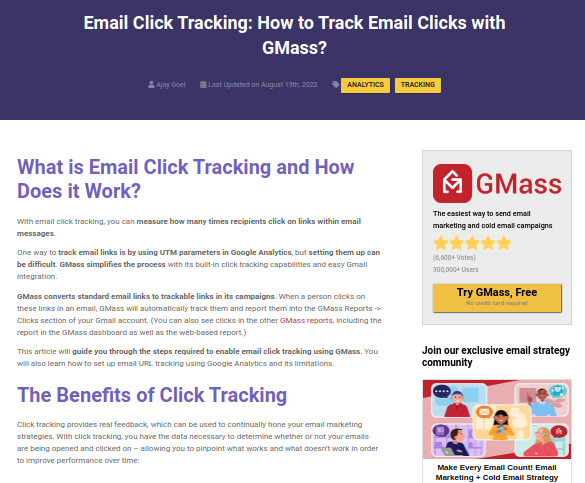 Gmail's Gmass tool tracks and automates email delivery. It is a useful tool for everyone who wishes to maximise the use of their Gmail account. Customers may automate email campaigns using Gmass, customise emails with dynamic content, monitor email delivery, know when emails are opened and clicked, and track email tracking.
Features
Email tracking: Users can track when emails are opened and clicked using Gmass. This is helpful for determining the success of an email campaign and the most successful message types.

Automation: Gmass users can automate email campaigns to eliminate the need for manual email distribution.

Personalization: Users can add dynamic content to emails using Gmass, including videos, images, and other information that can be customised for each recipient.

Analytics: To help users understand what is and isn't working with their emails, Gmass provides users with thorough analytics.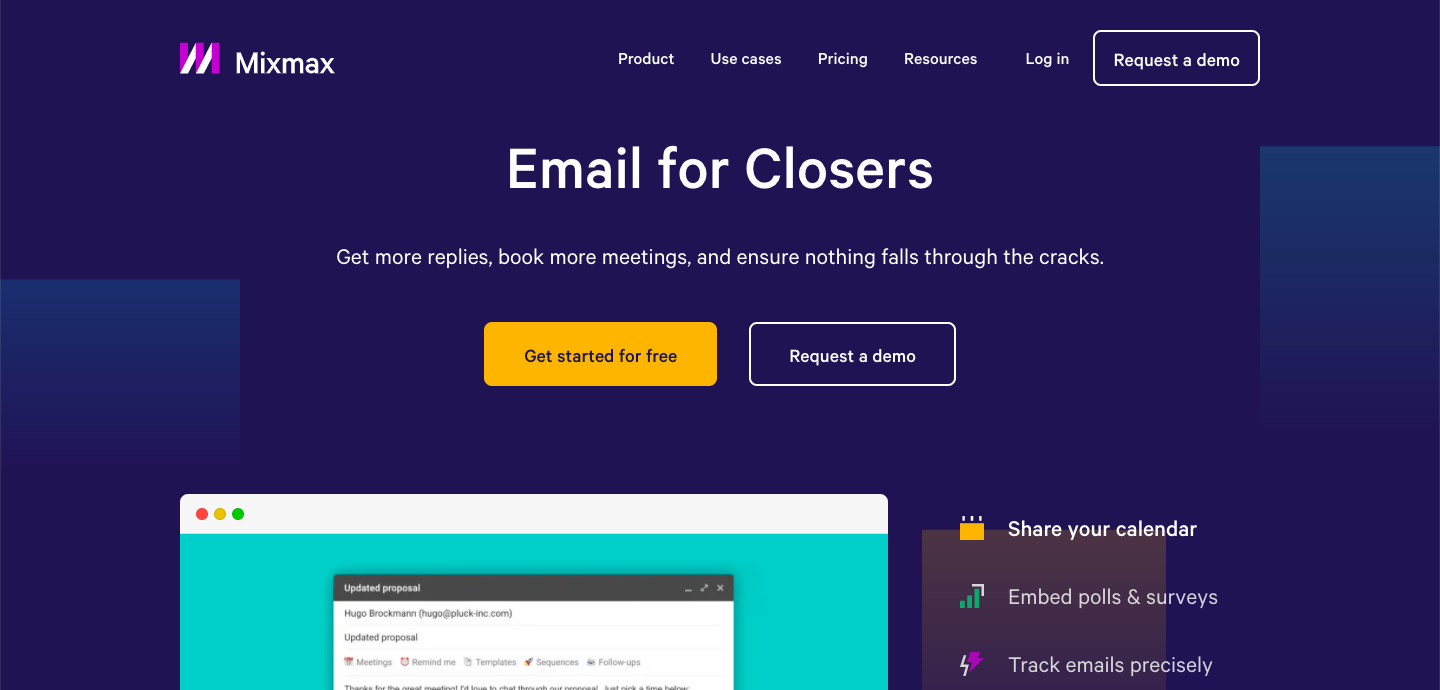 Mixmax is an email tracking and analytics tool that aids companies in monitoring the effectiveness of their email campaigns and outreach initiatives. It offers real-time metrics, like open and click rates as well as recipient engagement, to assist users in determining the emails and campaigns that work the best.
Features
Real-time analytics: Track recipient interaction and open and click rates in real-time to identify the emails and campaigns that are most successful.

Email tracking: Keep track of when emails are received, opened, and clicked to get a clear picture of your outreach efforts.

Scheduled emails: By setting up emails to be delivered at a specific time, you can be confident that your message will reach its target at the most efficient moment.

Link tracking: Track the clicking of links in emails to evaluate the success of outreach and campaign efforts.
What Next?
For businesses, a full extension suite would be useful. This holds true for both open source and paid extensions, as each has unique advantages. The general public frequently develops open source extensions, which are available for free usage and modification. They routinely undergo routine maintenance and sometimes provide a cheap solution to problems.
In addition to an extension collection, businesses would profit from having a collection of tools for HR, productivity, and sales. Human resources departments are in charge of recruiting, choosing, and managing employees. Using productivity tools can help organisations better manage their time, resources, and projects. Sales teams need marketing and customer relationship management systems to create leads and convert them into customers.
Conclusion
It would be helpful for business to have the 49 apps from 500apps and the openedornot extensions. Companies would be able to purchase the applications for just $14.99 thanks to this. They can quickly and simply get all the software they need to run their business in this manner. Organizations might save time and money by having these applications available if they could quickly and easily access them.
Why Choose 500apps?
#1
All-in-One Suite with more than 50 apps
#2
Everything you need today and in the future for all departments
#3
Unbelievable value - the lowest pricing you will ever find
#4
Hosted in 6 locations for compliance and blazing speeds
#5
24/5 Support - FREE chat, email and phone
#6
Uncapped features - limits you will never reach humanly
#7
Managed and maintained everyday by a dedicated team
#8
No downtime - comes with a 99.9% uptime guarantee
#9
Supports a number of international languages
#10
We've everything covered - 90k+ trust us with their business
Join the SaaS Revolution
All-in-One Suite of 50 apps

Unbelievable pricing - $14.99/user

24/5 Chat, Phone and Email Support