7 Best Techniques for Enhancing Customer Engagement Through Website Chat
In the modern world of digital marketing, engaging customers through website chat tools is a critical component in achieving success. Chatting with customers can increase customer satisfaction and loyalty by providing the opportunity for personalized interactions with your business. To make sure you are getting the most out of your website chats, here are 7 techniques that will help you enhance customer engagement.
Using proactive messages to engage customers when they arrive at your website. Proactive messaging allows you to initiate conversations with visitors as soon as they enter your site and provide them with information about your services or products. The second technique involves keeping track of conversations and responding quickly so that customers don't have to wait long for answers. You also need to be prepared to handle different inquiries, from simple questions to complex issues.
How to Identify the Best Website Chat Software for Your Business?
Regarding customer engagement, website chat has become a popular tool for businesses. Live chat on the website allows customers to interact directly with businesses in real-time and ask any questions they may have about products or services. But how do you know which software is the best for your business?
Choosing the Right Software:
Ensure it has all the required features (e.g. one-on-one conversations, group chats and automated messages).
Consider whether the platform offers customization options to tailor your brand image and messaging goals.
Look at reviews from other users who have used similar platforms to understand what works well and doesn't.
Once you've identified some promising solutions, take them out for a test drive before making a final decision. Try using each option yourself and get feedback from employees on their experience. This will help ensure that whichever solution you choose meets user expectations and your business needs.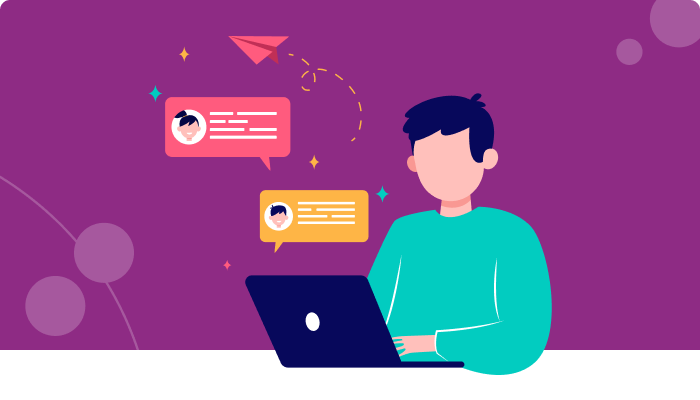 5 Advantages of Using Automation in Website Chat
Using automation in website chat can effectively enhance customer engagement. Automation helps businesses streamline processes and increase efficiency while providing customers quick solutions to their questions. Live chat service, combined with automated responses, enables businesses to provide better customer service without requiring a large team of agents.
Increased Efficiency
Live chat on a website is an efficient way to enhance customer engagement. By integrating a website chat service such as NinjaChat, businesses can improve their customer support process and increase overall efficiency. This platform gives customers instant access to help, allowing them to resolve any queries quickly they may have without waiting for email responses or contacting the business's call center. This allows companies to save time and provides customers with quick resolution times, ensuring that their needs are addressed immediately.
NinjaChat also offers a range of features which allow businesses to optimize their customer service processes further. For example, automated response messages can provide helpful information when customers initiate conversations in live chats, ensuring they never feel ignored or left waiting for long periods before getting assistance.
Increased Personalization
When enhancing customer engagement, increased personalization is key. NinjaChat offers live chat support software that helps websites increase the personalization they offer their customers. This free chat website provides features like automated messages and pre-filled forms, which help streamline conversations and make them more relevant to each visitor.
The software also allows businesses to customize their conversation styles according to specific customer preferences, helping create an engaging experience tailored specifically for them. Additionally, NinjaChat's analytics feature gives business owners access to data on how different visitors interact with their platform so they can further optimize the way they engage with customers.
Automatically Filter Out Spam
One of the most effective techniques for enhancing customer engagement through website chat is automatically filtering out spam. Chatbot software can be used to identify and block incoming messages that contain malicious links or inappropriate content. This helps protect customers and ensures the customer's experience on the site remains positive.
NinjaChat uses advanced algorithms and artificial intelligence (AI) technology to automatically filter out unwanted messages, allowing customers to communicate easily and feel safe. The chatbot will detect any language that could lead to a negative interaction from other users, alerting moderators in real-time if necessary. Additionally, NinjaChat's live chat feature allows staff members to respond quickly when needed, further increasing customer satisfaction by providing them with an immediate response.
Increased Customer Satisfaction
Regarding web chats, increasing customer satisfaction should be one of the primary goals. NinjaChat helps brands achieve that goal with its unique suite of features. It allows businesses to quickly filter out spam messages and provide an efficient and enjoyable user experience for customers.
NinjaChat has a wide range of tools to help improve customer engagement, such as automated response options, message filtering capabilities, and more. This makes it easier for customers to get their queries answered quickly without hassle. It also provides detailed analytics on customer conversations so companies can better understand their needs and develop targeted strategies based on this data.
Reduced Labor Costs
NinjaChat is an innovative tool that can help businesses reduce labor costs while enhancing customer engagement through website chat. This technology uses AI-driven algorithms to quickly and accurately answer customer inquiries, freeing up staff members from mundane or repetitive tasks so they can focus on more meaningful interactions with customers. NinjaChat's automated responses also ensure that every customer receives a consistent level of support regardless of when they reach out.
In addition to reducing labor costs, NinjaChat provides other benefits, such as improved customer satisfaction due to faster response times and accurate answers. It also enables customers to find the solutions they need without waiting for a live representative, leading to less frustration and higher levels of satisfaction overall. Consequently, businesses gain increased loyalty and trust from their customers, which translates into more sales in the long run.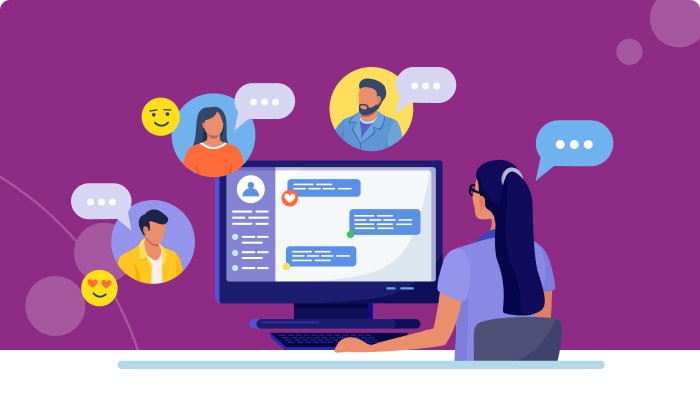 7 Best Ways through Which a Website Chat Can Boost Customer Interactions
When it comes to engaging customers through website chat, there are several ways businesses can boost customer interactions. From automated responses to personalized messages, the right strategy will help ensure a positive customer experience and increase loyalty. This article will discuss seven strategies companies can use to enhance customer engagement through website chat.
Increased Engagement
Increased engagement is essential for any successful website, and NinjaChat can bring your customers closer. By creating an active presence on your site, you can make sure that customers feel welcome and appreciated and keep them updated about new products or services. Here are four benefits of using NinjaChat to maximize customer engagements:
It allows you to respond quickly to customer inquiries or concerns in real-time.
You can provide personalized service tailored to each individual's needs, enhancing their overall experience.
Customers will no longer have to wait days for a response.
You can track customer interactions over time, which helps you better understand how people interact with your business online. Using NinjaChat makes it easier for businesses to build relationships with their customers by providing quick responses to questions and addressing issues promptly. This way, customers are more likely to return again and even recommend others due to the great service provided through web chat technology.
Personalized Experience
Personalization is a key factor in enhancing customer engagement through website chat. By creating an experience that's tailored to the individual, companies can make customers feel seen and appreciated. NinjaChat has plenty of features for personalizing experiences on its platform, allowing users to craft interactions that fit each customer's needs.
From custom greetings based on visitor data to automated responses triggered by keywords or conversation topics, NinjaChat offers tools designed specifically with personalized interaction in mind. Plus, they offer integrations with other popular platforms like Salesforce and Zendesk, so businesses don't need multiple services to create a unified customer service strategy. With such capabilities at their disposal, companies can provide more meaningful support experiences faster than ever before.
Improved Customer Service
Improved customer service is an essential factor in enhancing customer engagement through website chat. Through NinjaChat, businesses can provide their customers with a better and faster experience that will help create positive relationships between them. Companies can respond quickly to inquiries, address problems efficiently, and get customer feedback more effectively. This makes it easier for customers to reach out when they need assistance or have questions about products or services.
In addition to improved customer service, NinjaChat allows companies to connect directly with their customers via live chats. This helps build trust and loyalty by providing personalized experiences for each user based on their needs. It also allows for conversations of greater depth, allowing customers to go beyond surface-level topics such as product information and move into areas like problem-solving and brainstorming new ideas together.
Increased Sales
Increased sales through website chat is a key goal for any business. NinjaChat software, specifically designed to enhance customer engagement, provides businesses with the tools they need to drive their bottom line. It enables personalized customer service in real-time and offers an easy way to track conversations across multiple channels.
NinjaChat helps increase sales by providing customers with personalized product recommendations based on their needs and preferences. This reduces friction during shopping, making it easier for customers to make informed buying decisions.
Additionally, its AI-powered automation capabilities enable quick responses from agents and help streamline customer queries without sacrificing the quality of service. With these features, businesses can provide faster resolution times and better overall experiences that keep customers returning.
Get started with the leading Website Chat Software today! Sign Up 14 Day Trial
Automated Responses
Automated responses are one of the most useful techniques for enhancing customer engagement through website chat. By using automated messages, businesses can respond quickly to customers' inquiries and provide them with answers in a timely manner. This helps create a better user experience, as customers feel that their questions have been answered promptly and professionally.
Automated responses allow companies to tailor their communication to customers' needs. For example, they can send personalized messages tailored specifically to a customer's past purchases or interests. Automation also allows companies to maintain consistent messaging across different channels, such as email and social media.
Improved Analytics
Analytics are key to any successful customer engagement strategy. By leveraging analytics, businesses can better understand their customers' needs and how to provide them best. With NinjaChat's improved analytics capabilities, companies can quickly gather data on customer conversations and gain valuable insights into the effectiveness of their chatbot responses. NinjaChat's analytics allow users to measure response rates, average conversation length, and sentiment analysis. This allows them to make more informed decisions regarding when and how to respond to automated messages and identify areas where further improvement might be needed to enhance the overall user experience.
Increased Visibility
Visibility is an important component of customer engagement. By increasing visibility, customers will better understand how to reach out to a company and get real-time help with their queries or questions.
NinjaChat offers a great solution for enhancing the visibility of website chat functions by giving businesses control over how chats are displayed on their sites. They also provide analytics that allows companies to track user interactions, so they can make sure users are receiving helpful responses quickly.
NinjaChat's customizable options let businesses tailor the look and feel of their websites' chat features according to their needs. This means companies can easily adjust the size, color, font type, logo placement, and more to create an engaging experience for visitors.
Conclusion
In conclusion, website chat is a great tool for companies to increase customer engagement and provide better experiences. With the right software, businesses can take advantage of automation, personalization, analytics and more to create an enhanced customer experience. NinjaChat has been designed with these features in mind so businesses can easily implement them into their operations. Through automated responses, spam filtering and improved visibility, customers can interact with your company on a much deeper level than ever before. By utilizing all seven techniques discussed here, you'll be sure to see significant increases in customer engagement throughout your website chat platform.
Why Choose 500apps?
#1
All-in-One Suite with more than 50 apps
#2
Everything you need today and in the future for all departments
#3
Unbelievable value - the lowest pricing you will ever find
#4
Hosted in 6 locations for compliance and blazing speeds
#5
24/5 Support - FREE chat, email and phone
#6
Uncapped features - limits you will never reach humanly
#7
Managed and maintained everyday by a dedicated team
#8
No downtime - comes with a 99.9% uptime guarantee
#9
Supports a number of international languages
#10
We've everything covered - 90k+ trust us with their business
Join the SaaS Revolution
All-in-One Suite of 50 apps

Unbelievable pricing - $14.99/user

24/5 Chat, Phone and Email Support