Social Media Content Planner - A Comprehensive Guide
This comprehensive guide explores social media content planning, offering strategies and tactics to help you create better content and take your social media presence to the next level.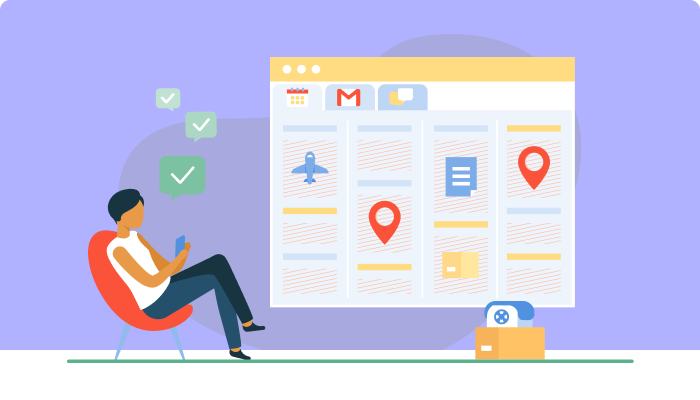 Social media is an integral part of any successful business. Engaging with your target audience on social media platforms can help build relationships and drive sales to your company's products or services. But without a well-thought-out content plan, it can be difficult to stand out from the crowd and ensure your message reaches its intended recipient.
Enter the Social Media Content Planner - A Comprehensive Guide! This guide will provide you with all the tools and information necessary to take control of your online presence and create effective campaigns that attract new customers and grow your business. It will cover everything from understanding different types of content, developing an editorial calendar, creating engaging visuals, driving traffic through SEO, tracking analytics, and more.
What is a Social Media Content Planner?
A social media content planner is a tool that helps you plan out the types of content you'll post to your social media accounts. It can help ensure that your posts are consistent, organized and effective in reaching your target audience. Content planners for Instagram specifically allow users to create visually appealing posts with hashtags, stories, captions, links and more.
Using a social media content planner allows businesses to develop comprehensive post strategies by scheduling them ahead of time and monitoring engagement in real-time. It also helps brands stay up-to-date on relevant trends and topics within the industry while providing strategic insights into what type of content works best for their target audiences. Ultimately, using a social media content planner can make it easier for businesses to increase visibility and reach by creating quality content efficiently.
How to Create a Social Media Content Plan?
Creating a social media content plan is essential for successfully promoting your brand or service. A content calendar and social media calendar will provide the structure you need to ensure that all your posts, updates, contests and other activities are evenly distributed over time.
A well-constructed content plan allows you to track what has been posted on each platform, compare results against goals, measure campaigns' impact, and adjust accordingly.
There should be enough variety in your content, so followers don't get bored with repetitive messages.
Taking advantage of certain days or events can be used to promote specific products or services.
Researching audience profiles, gathering data about their interests and needs, setting measurable objectives and mapping out the timeline for delivering different types of content across various platforms are key steps for creating a comprehensive content plan.
Tracking performance and making adjustments as needed are important components of this process.
An effective strategy can significantly increase engagement while staying true to its core message.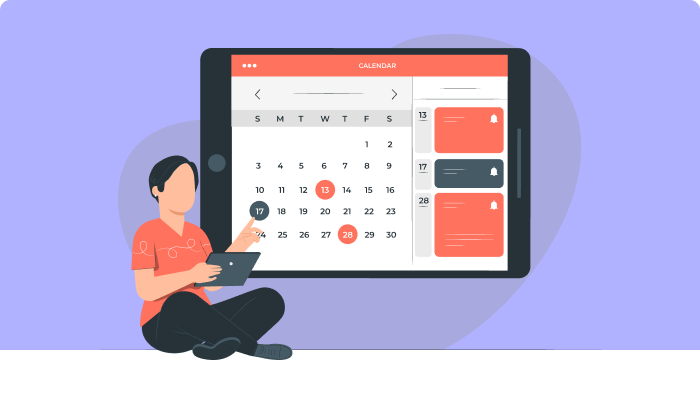 Why You Need a Social Media Calendar?
Creating a social media content plan is essential to running any successful business. Without one, you won't be able to develop a cohesive strategy that will help your brand reach its objectives. That's why having a social media calendar is so important - it allows you to prioritize and organize the different elements of your content planning process to maximize efficiency and effectiveness.
A social media calendar helps ensure all aspects of content planning are considered and mapped out.
It enables planning for upcoming events or special occasions ahead of time.
An organized approach to content planning makes life easier and allows focus on creating high-quality content.
With the right tools and a comprehensive social media content planning guide using a calendar system, you can set yourself up for success.
A social media calendar helps free up time for other business operations.
6 Benefits of a Social Media Content Planner
Are you looking for a way to maximize your social media content? A social media content planner can help. A comprehensive plan has many benefits, from staying organized to using a content generator. Let's explore six key advantages that this tool offers.
Set Clear Objectives
When it comes to social media marketing, having a plan is essential. With a well-constructed social media content planner in place, you can set clear objectives and create an effective weekly social media planner that will help keep your campaigns on track.
Creating a comprehensive roadmap for your strategy helps you identify which types of content work best for each platform and when to post them. It also lets you stay organized with all the different tasks associated with running successful campaigns. By creating measurable goals and strategies ahead of time, you'll be able to adjust quickly if something goes wrong or take advantage of any opportunities that arise. A social media content planner allows you to pivot away from initiatives that don't perform as expected while allowing you to focus more on those that yield results.
Save Time
Time is a valuable resource, and one of the most efficient ways to save it is by utilizing the best social media content planner. NinjaContent has created an all-inclusive platform that helps maximize your time while planning your next post or campaign. It even provides information on what type of content works best for each network. With features like automated scheduling and analytics, this comprehensive guide ensures you can spend less time worrying about when and how to post and more time creating great content.
The intuitive dashboard allows users to create campaigns based on their objectives and target audience easily. Plus, plenty of templates can be used as starting points for any project. This way, no matter your goals – from promoting new products to increasing brand awareness-a social media content planner ensures you have everything you need to succeed online.
Social media marketing can initially seem overwhelming, but having access to the right tools makes it easier. And with NinjaContent's easy-to-use system, you'll be able to get started building successful campaigns in no time quickly!
Track Performance
With the help of a social media content planner, tracking performance is made easier. It can provide you with detailed insights into how your campaigns are working and which ones need to be improved upon. The NinjaContent platform allows you to measure the success of each post in detail so you know what's working and what isn't. This helps you optimize your strategy for maximum impact and focus on areas where improvement is needed. You'll also get data-driven recommendations for when it's best to schedule posts based on user behavior patterns and peak engagement times. This ensures that your messages reach more people at the right time and increases the likelihood of conversions or other desired outcomes from any campaign. As a result, using a social media content planner with NinjaContent will improve the efficiency of your operations while helping you achieve better results from all your efforts.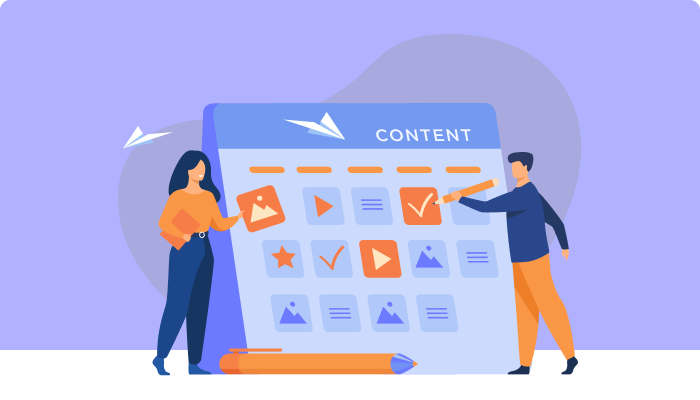 Focus On Quality Content
When creating content for social media, one of the most important things is quality. Quality content can attract new followers and customers while helping build relationships with existing ones. With NinjaContent you can ensure that your posts reflect this commitment to quality.
There are several ways to focus on producing high-quality content when using NinjaContent:
Create a plan: Use NinjaContent's comprehensive guide to create an effective strategy tailored to meet your needs and objectives.
Brainstorm ideas: Take advantage of the tools available in NinjaContent such as brainstorming functions, keyword research and analytics reports to help generate creative ideas quickly and efficiently.
Make sure it looks good: Utilize templates or custom designs from NinjaContent's library of visuals and text formats, so every post looks great across all platforms.
Track performance: Monitor each post's performance by tracking metrics like likes, comments, shares and more. This helps you make data-driven decisions about what works best for your audience.
From planning strategies to monitoring performance, NinjaContent makes it easy for businesses to produce engaging quality content that will keep their followers coming back again and again!
Boost Engagement
When it comes to boosting engagement on social media, NinjaContent is an invaluable tool. It offers a range of features that can help you create content tailored specifically for your target audience and maximize the impact of each post. You can use NinjaContent to analyze user feedback and develop strategies to better engage with them - from personalized messaging and targeted campaigns to optimizing timing for maximum visibility.
With NinjaContent's tools, you can get real-time insights into your followers' activity and measure success with detailed analytics. This allows you to refine your approach to ensure your content resonates with users and drives results. In addition, you'll be able to quickly identify what type of posts are generating the most engagement so you can focus more resources on those areas.
Stay Organized
The organization is key when it comes to social media content planning. Without a carefully thought-out strategy, your posts can get lost in the shuffle, and you won't get the engagement you're hoping for. That's why NinjaContent offers an easy way to stay organized and on top of your content plan so that you don't miss out on opportunities or run into any hiccups.
NinjaContent allows users to:
Plan ahead: Create a calendar with all scheduled posts, giving plenty of time to review, adjust, and optimize them as needed before they go live.
Streamline workflow: Assign tasks and track their progress from start to finish using automated notifications and reporting features.
Automate posting: Set up multiple accounts across various platforms like Facebook, Twitter, Instagram, LinkedIn, etc., and manage them simultaneously without manual effort.
With these tools at your disposal, there's no excuse not to be prepared! You can easily keep tabs on everything happening within your team while boosting engagement by reaching more potential customers than ever before. Plus, if something doesn't quite go as planned? Make use of NinjaContent's powerful analytics capabilities to identify what needs fixing quickly, empowering you to course correct efficiently and effectively.
Get started with the leading Social Media Content Planner today! Sign Up 14 Day Trial
Conclusion
Creating a social media content planner is essential to any successful digital marketing strategy. With it, businesses can create an effective plan for their posts and track performance to ensure they reach the right audience with the right message. It allows them to focus on quality content that will boost engagement, stay organized and set clear objectives to achieve their goals.
NinjaContent can help you streamline your content planning process without wasting time or breaking the bank. By allowing users to access powerful tools such as analytics tracking and post scheduling, NinjaContent helps marketers make informed decisions about what content should be used when targeting customers online. Furthermore, its automated processes reduce manual labor while providing meaningful insights into customer behavior.
Creating a social media content planner is key to success in today's competitive digital landscape. Not only does it provide organizations with a way to optimize their strategies, but it also ensures they can engage their target audience effectively and efficiently. Utilizing professional tools like NinjaContent can help ensure that these plans are implemented successfully so businesses can get maximum return on investment from their efforts.
Why Choose 500apps?
#1
All-in-One Suite with more than 50 apps
#2
Everything you need today and in the future for all departments
#3
Unbelievable value - the lowest pricing you will ever find
#4
Hosted in 6 locations for compliance and blazing speeds
#5
24/5 Support - FREE chat, email and phone
#6
Uncapped features - limits you will never reach humanly
#7
Managed and maintained everyday by a dedicated team
#8
No downtime - comes with a 99.9% uptime guarantee
#9
Supports a number of international languages
#10
We've everything covered - 90k+ trust us with their business
Join the SaaS Revolution
All-in-One Suite of 50 apps

Unbelievable pricing - $14.99/user

24/5 Chat, Phone and Email Support