9 Best Free Business Email Accounts in 2023
It's no secret that having a professional email address is essential for any business. It creates a sense of trust and credibility with potential customers and allows you to better connect with your team, clients, and vendors. The good news is that there are now many free business email accounts available in 2023 that provide the same features as their paid counterparts without breaking the bank. In this article, we'll look at nine of the best free business email accounts so you can find one that fits your needs.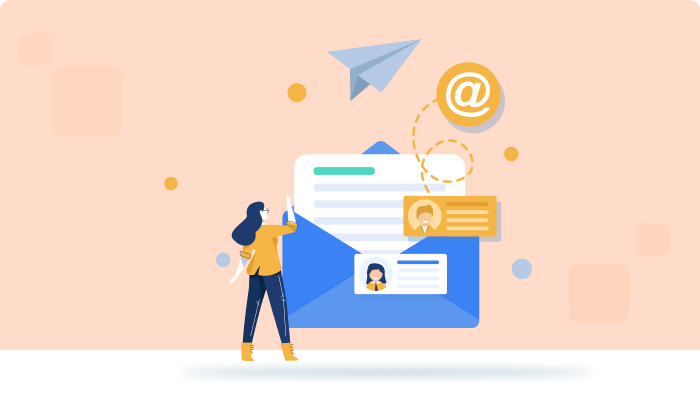 We've assessed these services based on criteria such as storage capacity, security measures, user interface design, customer support options, and more to ensure they offer all the features needed to run an efficient and successful business. Read more about our top picks for free business email accounts in 2023!
Importance of a Business Email
A business email is essential for any company, regardless of size. It's more than just an address; it helps you create a professional online presence and build customer trust. With custom domain emails, businesses can access numerous email services catered specifically to their needs. Plus, several free business emails will be available in 2023, making them easily accessible for all businesses.
Start by looking at the features they offer: Does it allow multiple users? Is it easy to set up and maintain? What type of security measures do they provide?
Ensure security measures meet your standards before committing to one provider.
Consider the level of support offered: Do they have helpful customer service representatives to help if anything goes wrong? Are updates regularly released?
Consider the cost of the service and determine if it's worth the investment.
How to Create a Free Business Email Address?
When it comes to establishing a professional online presence, creating a free business email address is essential. A business email allows you to project credibility and trustworthiness when dealing with customers and clients. Plus, it helps protect your confidential information by using advanced encryption protocols that help keep emails safe from unwanted access.
Creating a free business email address is easy, but there are certain steps to take to ensure the security of your messages. First, pick an email provider like Gmail or Outlook that offers strong spam filters and other protective features for personal accounts. Next, create an account with unique credentials and make sure the password uses upper-case letters, lower-case letters, symbols and numbers for maximum protection. Lastly, enable two-factor authentication (2FA) so that even if someone does gain access to your account, they won't be able to log in without entering an additional code sent directly to you via text message or email encrypt.
By setting up these safety measures, you can rest assured knowing that your data is protected and that all communications remain secure while conducting business operations over the internet. With this in mind, setting up a free business email address will pay off in spades as more people come into contact with your brand online through its various channels.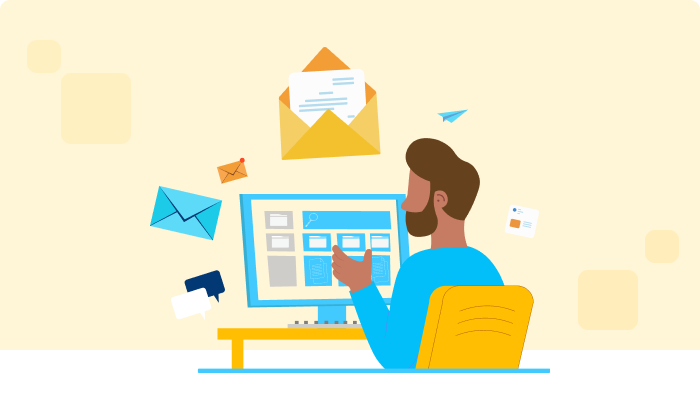 9 Best Free Business Email Accounts in 2023
Whether you're launching a new business or your current email address is no longer meeting your organisation's needs, it pays to evaluate the best free business email accounts available in 2023. Luckily, there are plenty of options out there that offer secure mails and other features for businesses large and small. Let's take a closer look at some of the top business email service providers currently on the market.
Gmail
When it comes to free business email accounts, Gmail is a great option. It offers plenty of storage space and powerful organization tools that make managing your inbox easier. Plus, its integration with other Google services means you can quickly access documents and collaborate on projects without leaving the platform.
Gmail also has strong security features such as two-step verification, data encryption, and phishing protection to keep your information safe. And if you need help navigating the interface or setting up specific features, there are helpful tutorials available online.
Titan
Titan is a powerful and reliable business email provider, perfect for those looking to make their mark online. It's simple to set up an account with Titan: all you need is your name and contact information, plus a few clicks of the mouse. On top of that, it offers great security features such as two-factor authentication and encryption technology. Plus, it has tons of storage space, so you can store large attachments without worrying about running out of room.
Its intuitive user interface sets Titan apart from other free business email accounts. Thanks to its easy-to-use menus and options, you won't have any trouble navigating the platform. Additionally, plenty of helpful tutorials are available if you ever run into any issues while setting up or managing your account.
Zoho Mail
Zoho Mail is a great option to set up free business email accounts in 2023. It offers unlimited storage, shared contacts and calendars, and support for multiple domains. Its user-friendly interface makes it easy to manage emails and files quickly and efficiently. This makes Zoho Mail perfect for businesses of any size, from startups to established enterprises.
In addition to the basics that come with most other email services, Zoho Mail also has some advanced features like mail delegation, auto-responders, mobile access, and integration with analytics tools like Google Analytics. All this can be used to create custom workflows tailored perfectly for any business need. Moreover, the service supports two-factor authentication, which adds an extra layer of security when logging into your account.
Outlook.Com
Outlook.com is a great choice for free business email accounts in 2023. It offers several advantages that make it an ideal option, including advanced security features, extensive storage space and integration with other Microsoft products. Here are three reasons why Outlook.com is one of the best free business email accounts of 2023:
Outlook.com has powerful anti-malware protection, ensuring your emails are safe from viruses and unwanted intrusions. This makes it an excellent choice for businesses that want to protect their sensitive data and communication streams. Second, you can store up to 15GB worth of emails in your account - plenty of room for all sorts of work-related files such as documents, spreadsheets or presentations. Finally, since Outlook.com is part of the Microsoft family, you'll have access to programs like Word and Excel without having to purchase separate licenses or subscriptions.
500Mail
For free business email accounts, 500mail is a great option for 2023. It offers users plenty of features and customization options that make it suitable for many businesses. It's easy to use and has an intuitive interface that makes getting started with the service quick and straightforward. Here are some of its most noteworthy features:
State-of-the-art security protocols: 500mail employs advanced encryption technology to keep user data secure from prying eyes.
Cloud storage integration: 500mail supports seamless integration with popular cloud storage services like Dropbox and Google Drive, allowing you to store files online easily.
Flexible accounts: You can create multiple accounts with different aliases so you can easily separate your personal emails from work emails.
Customizable filters: With customizable filters, you can quickly sort through incoming messages based on sender or keywords, making staying organized much simpler.
Automated responses: You can set up automated responses if someone needs information but doesn't have time to respond immediately.
With all these features, it's no wonder why 500mail is becoming one of the top choices among businesses looking for a reliable email provider in 2023. Plus, their customer support team is always available if any issues arise during setup or usage, meaning there won't be any surprises down the road! This is an excellent choice for companies who want a dependable business email account without spending a fortune on monthly subscriptions.
Get started with the leading Business Email Tool today! Sign Up 14 Day Trial
Protonmail
Protonmail is a great alternative to GMX mail when considering free business email accounts in 2023. It offers an encrypted, secure email experience with its end-to-end encryption capabilities and two-factor authentication options. On top of that, Protonmail has no ads and provides users up to five gigabytes (GB) of storage space for their emails.
The service is easy to use but also allows advanced settings so users can customize their accounts as they see fit. This could include setting rules for incoming messages or scheduling automatic responses if the user won't be available for some time.
Yahoo! Mail
Yahoo! Mail is one of the most popular free business email accounts available in 2023. It's a great choice for those who require an organized and reliable service to handle business communications. The account has many features that make it user-friendly, such as its intuitive design and easy navigation. Plus, users can easily access their emails from any device with internet connection.
When signing up for Yahoo! Mail, you'll get 2GB of storage space – enough to store plenty of documents, photos and files attached to emails. You can also use filters to keep your inbox neatly sorted by subject or sender name, enabling you to quickly find the messages you need without getting overwhelmed by clutter. Additionally, Yahoo! Mail provides spam protection to ensure unwanted emails don't clog up your inbox.
AOL Mail
AOL Mail is one of the most popular free email accounts available in 2023. It has plenty of features that stand out from its competitors, such as an advanced spam filter and a simple-to-use interface. AOL's customer support team provides helpful assistance whenever you need them.
One of the best aspects of AOL Mail is its customization options. You can easily customize your inbox with different themes and colors to suit your preferences. As well you can also access multiple mailboxes to organize emails more efficiently. This makes sorting through messages simpler and faster than ever before.
GMX mail
GMX mail is one of the top contenders for free business email accounts in 2023. It's a great choice for small businesses that need an easy and affordable way to communicate with their customers. GMX mail offers unlimited storage, custom domains, spam protection, and more at no cost. Its user-friendly interface makes it simple for anyone to set up and use quickly.
GMX mail stands out from other providers' ability to integrate seamlessly with popular third-party applications like Office 365, G Suite, Google Drive and Dropbox. This allows users to manage emails, documents and contacts across multiple platforms easily. Additionally, GMX mail also provides encrypted security features such as two-factor authentication (2FA), which helps protect sensitive data from unauthorized access.
Conclusion
A business email address is an important part of running a successful business. It allows customers to contact you easily and gives your company more credibility than if you simply used a free personal email account. With so many options available, it can take time to determine which is best for you.
The 9 best free business email accounts in 2023 are Gmail, Titan, Protonmail, Yahoo! Mail, AOL Mail and 500Mail. Each of these services offers different features and benefits that make them ideal for businesses of all sizes. From encryption technology and cloud storage to user-friendly interfaces and spam filtering capabilities, each service has something unique to offer.
Why Choose 500apps?
#1
All-in-One Suite with more than 50 apps
#2
Everything you need today and in the future for all departments
#3
Unbelievable value - the lowest pricing you will ever find
#4
Hosted in 6 locations for compliance and blazing speeds
#5
24/5 Support - FREE chat, email and phone
#6
Uncapped features - limits you will never reach humanly
#7
Managed and maintained everyday by a dedicated team
#8
No downtime - comes with a 99.9% uptime guarantee
#9
Supports a number of international languages
#10
We've everything covered - 90k+ trust us with their business
Join the SaaS Revolution
All-in-One Suite of 50 apps

Unbelievable pricing - $14.99/user

24/5 Chat, Phone and Email Support