How to Choose the Right CRM System for Small Businesses
As a small business owner, you understand the importance of having an effective Customer Relationship Management (CRM) system. Having the right CRM in place can help to streamline processes, save time and money, increase customer satisfaction, and ultimately drive more sales. But with so many options, it can take time to figure out which is best for your needs. In this article, we'll explore how to choose the right CRM system for small businesses – from understanding key features to considering cost-effectiveness.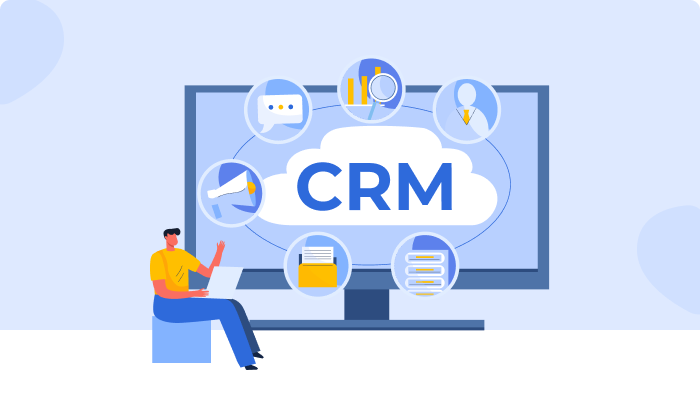 We'll also provide tips on how to make sure that your chosen solution fits perfectly into your current operations and ensures success in the future. So if you're looking for advice on selecting a CRM that will fit seamlessly into your existing setup while helping to meet all of your business objectives, read on!
The Importance of CRM Systems for Small Businesses
Small businesses increasingly rely on Customer Relationship Management (CRM) systems to keep track of customer data and manage their sales pipelines. These tools provide an invaluable resource for small business owners, allowing them to focus more on their customer relationships instead of being bogged down in administrative duties. When it comes to choosing CRM software that is right for your small business, there are several factors you should consider.
Sales CRM solutions like CRM.io allow businesses to easily store customer contact information, create automated processes around lead capture and management, and gain insights into how they can improve their sales strategies. Cloud-based CRMs also enable teams to collaborate remotely while providing access to real-time analytics - all from one centralized platform. This makes it easier for companies to stay organized, ensure accuracy throughout their organization, and deliver better customer experiences by remaining connected with prospects and clients at any time or place.
By taking advantage of these features offered by cloud CRM software, small businesses can increase efficiency within their operations, accelerate sales cycles and close deals faster - ultimately leading to higher profits. Furthermore, this technology offers scalability options that allow organizations to grow without worrying about outgrowing the system's capabilities too quickly. With so many benefits available through modern-day CRMs, investing in the right solution for your business will help set up long-term success.
5 Key Features of a Good CRM System
Small businesses need to invest in the right CRM system if they want to succeed. A good sales CRM system can help them keep track of customer information, streamline processes and automate mundane tasks - but what makes a great one? Here are five key features that every business should look out for when choosing their best CRM system.
Cloud-Based Platform
When it comes to choosing the right CRM system for small businesses, cloud-based platforms are worth considering. These solutions offer a number of advantages compared to other types of software and hardware systems. With a list of CRM systems (including CRM.io) available on the market today, there's plenty of choice regarding finding one that meets your needs.
Cloud-based CRMs provide greater flexibility than traditional solutions because they allow users to access their data from any device with an internet connection. This means you can use the same program across multiple devices without needing to install anything locally. Furthermore, since the provider handles all updates and backups, you don't need to back up your data or keep its version current manually.
The scalability factor is also key here: as long as you have enough bandwidth, you won't need to worry about purchasing additional servers or storage space if your business grows over time. You'll be able to scale up to accommodate more users and larger datasets, which would require significant investment if you use a physical server setup instead. All this makes cloud-based solutions ideal for businesses looking for cost-effective yet reliable options.
Comprehensive Dashboard
When it comes to choosing the right CRM system for small businesses, a comprehensive dashboard is essential. With a detailed view of customer information and activities within one software application, teams can get an in-depth look at their sales pipeline and have access to valuable data that helps them make better decisions.
At CRM.io, our goal is to provide users with everything they need from a single platform. Our dashboard offers insights into customers' interactions, giving owners a more accurate picture of their business performance. In addition, companies can also track leads, manage tasks, monitor campaigns and analyze reports - all from the same dashboard! Here are some key features we offer:
Lead Tracking: Easily capture all customer details, including contact information and purchase history

Task Management: Set up reminders and organize follow-up tasks for your team

Campaign Monitoring: Keep tabs on your marketing efforts with real-time analytics

Reporting & Analytics: Generate custom reports on user behaviour or product performance
The benefits of using CRM.io's comprehensive dashboard go far beyond just having a clear overview of customer activities; it allows you to quickly identify trends or patterns in order to make informed decisions about future strategies. By streamlining processes such as lead management, task organization and report generation, this feature makes managing customer relationships easier than ever before. No matter what size your business is or what sector it operates in, CRM.io's powerful dashboard will help keep things running smoothly while providing insight into areas where improvements can be made.
Get started with the leading CRM System today! Sign Up 14 Day Trial
Automated Sales Processes
Automated sales processes can be a powerful tool for small businesses, especially when it comes to CRM systems. When selecting the right system for your business, it's important to consider how automated processes will help streamline operations and save time. For example, with CRM.io's automated sales process feature, you can quickly generate tailored customer proposals from templates and automate follow-up tasks like emailing or scheduling calls with clients. This is an invaluable resource for any busy entrepreneur who needs to stay on top of daily tasks without sacrificing quality customer service.
Also useful are features such as automated lead scoring which helps prioritize leads based on their likelihood to convert into customers. With CRM.io's lead scoring capabilities, you can easily identify potential opportunities among existing leads, allowing teams to focus more energy towards closing deals faster. On top of that, having detailed records of all customer interactions allows you to better understand what works best in marketing tactics or product offerings so your team can constantly refine its approach over time.
Overall, automating sales processes is essential if you want to maximize efficiency while still providing quality services and products to customers. By utilizing the power of automation through a reliable CRM system like CRM.io, you optimise operations and gain valuable insights into your business performance - giving you an edge against competitors in the market place.
Lead Management
Lead management is an essential part of any business, large or small. It's crucial for tracking and converting leads into customers. A CRM system can maximize lead management efficiency.
Firstly, it helps to identify potential sales opportunities from existing customer databases. This ensures that no potential sale is missed out on and increases the chance that a customer will make a purchase. Secondly, it allows you to track interactions with each lead in order to understand their needs better and create personalised campaigns tailored to them. Thirdly, it enables automated follow-up emails which can be used to keep engaging your leads even when they don't respond right away. Finally, it makes reporting easier by providing real-time data so businesses can see how well their marketing efforts are doing at all times.
CRM systems like CRM.io provide powerful features designed specifically for small businesses. They offer easy ways to manage contacts, track activities, automate tasks and store information such as customer history – helping you stay organised while keeping costs down! With these benefits combined, CRM.io provides a comprehensive solution for streamlining lead management processes without breaking the bank - allowing small businesses to get ahead of their competition quickly and easily.
Customizable Reports
When it comes to choosing the right CRM system for a small business, customizable reports should be taken into consideration. Customizable reporting capabilities give businesses more control over how they view and organize their data to make informed decisions that align with their goals.
For starters, when looking at any given CRM system, there are three main criteria to consider:
Reporting options: Does the software offer customizing options? Can you filter specific information based on your needs?

Data visualization: Can you create different types of charts or graphs to visualize complex customer data?

Data integration: Is it possible to connect external data sources like Google Analytics or MailChimp?
Fortunately, CRM.io offers all these features so small businesses can leverage them for better decision-making. With its custom report builder tools, users can drill down deep into their sales pipeline and find out which customer segments are performing best and where efforts need improvement. The platform also allows admins to build various visualizations, including tables and charts from multiple datasets. Furthermore, integrations with third-party apps enable companies to get an even clearer picture of what's happening across departments and teams.
These advanced customization options provide actionable insights about customers' buying behaviour as well as other key performance indicators (KPIs). This helps managers focus more on high-value activities and optimize team resources accordingly. All this means that by selecting CRM.io, small businesses have access to robust reporting features without having to worry about breaking the bank.
Best Practices to Choose the Right CRM System for Small Businesses
When it comes to choosing the right CRM system for small businesses, certain best practices can help make sure you make the most suitable choice. To ensure your business is meeting all of its needs and using resources wisely, read on for the top three tips to consider when selecting a CRM.
First off, take into account how user-friendly the system is. You want something that's intuitive so employees can start using it quickly without any technical training or hiccups. It should also grow with your business as it expands, such as offering more advanced features like customer segmentation. For example, CRM.io offers an easy drag-and-drop interface with built-in automation capabilities, making onboarding smooth and efficient.
Secondly, look at what kind of data integration options the system has available. Ensure that it's compatible with other third-party software applications you use in order to maximize efficiency and avoid manual entry errors since some tasks may need to be completed outside of the CRM platform itself. Additionally, find out if custom reports can be generated easily; CRM.io allows users to set up customizable reports depending on their own specific requirements within minutes, thanks to its dynamic reporting feature.
Finally, think about scalability - does this system have enough capacity to handle future growth? Whether you're expecting increased sales volume or larger databases of contacts and customers over time, make sure your chosen CRM solution won't become obsolete after a few months or years down the line due to lack of scalability support; CRM.io offers unlimited storage space and automated processes so companies don't run out of room for additional data even during times when they experience rapid expansion in short periods of time.
In summary: when picking a CRM for small businesses, ensure it's user-friendly, check compatibility with other apps; verify custom report creation capability; assess if the platform will scale with your growing company – these are key elements to keep in mind while reviewing potential solutions such as CRM.io!
Conclusion
Choosing the right CRM system for small businesses is an important decision. A good CRM system should be cloud-based, have a comprehensive dashboard, automate sales processes and lead management, and offer customizable reports. With all of these features in mind, it can be difficult to decide which is best. That's why it's important to do research ahead of time and find out what other users think about the different systems on the market.
CRM.io offers many of the key features that small business owners need when selecting a CRM system. It includes a powerful yet easy-to-use platform with automated tools that streamline customer relations and robust reporting capabilities so you can measure success and make data-driven decisions quickly and accurately. Additionally, its user-friendly interface makes setting up and starting immediately simple.
Ultimately, choosing the right CRM software for your small business comes down to finding one that fits your needs and budget – but don't forget to consider usability too! There are plenty of great options on the market today, including CRM.io, which provides all of the essential elements necessary for successful customer relationship management from star
Why Choose 500apps?
#1
All-in-One Suite with more than 50 apps
#2
Everything you need today and in the future for all departments
#3
Unbelievable value - the lowest pricing you will ever find
#4
Hosted in 6 locations for compliance and blazing speeds
#5
24/5 Support - FREE chat, email and phone
#6
Uncapped features - limits you will never reach humanly
#7
Managed and maintained everyday by a dedicated team
#8
No downtime - comes with a 99.9% uptime guarantee
#9
Supports a number of international languages
#10
We've everything covered - 90k+ trust us with their business
Join the SaaS Revolution
All-in-One Suite of 50 apps

Unbelievable pricing - $14.99/user

24/5 Chat, Phone and Email Support