Impact of Business Management Software on ROI
Return on Investment (ROI) is sometimes referred to as a "business calculator." A scientific instrument for determining whether and to what degree a company should invest in a specific business or project. This is especially important for tracking progress over time and removing uncertainty from future business choices. The type of project or business chosen is based on how much profit the investment can generate.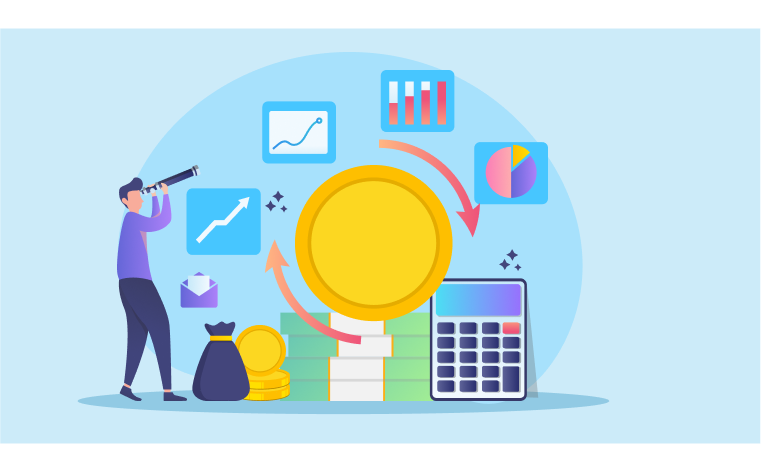 Therefore, in other words, ROI is the cost-benefit analysis that any organization must do when you are making decision making.
A return on investment, or ROI, is a computation that compares the cost of an investment to its value. Return on investment (ROI) is a calculation that allows you to quantify the amount of money you stand to profit from an investment as a relationship between the gain and the cost of the investment.
ROI is calculated as Return on Investment (ROI) = (Gain on Investment) - (Cost of Investment) / (Cost of Investment). The sum of funds that stand to gain from installing the new software system is the gain of investment. Whereas, the sum of funds spent on implementing and maintaining the new software system is known as the cost of the investment.
Business Management Software is an end-to-end, all-in-one solution that simplifies and manages all areas of a company's operations. Business Management Software is capable of meeting all business needs. The software aids in decreasing errors, completing business tasks, reporting activities, and the overall increase in performance and productivity of the organization. Good business management software can help improve skills and improve business operations.
Listed below are four ways to use your Business Management Software ROI to justify future technology purchases.
How can Software Save Time?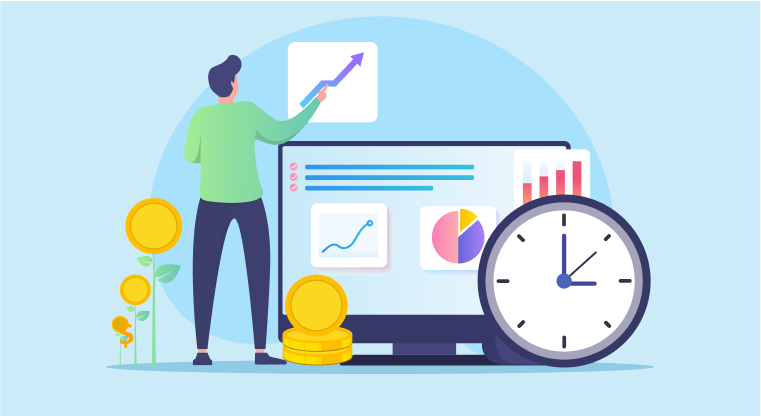 With rapid access to information, business management software can help staff perform more efficiently. This type of software also allows businesses to automate workflows, which speeds up evaluations and approvals while keeping corporate operations flowing. These software applications improve accountability by using comprehensive search methods and streamlining distribution with automated process routing and notification. It enhances organizational activities by reducing labor and technical errors through automated character recognition and sorting.
It reduces the risk of losing essential data by making copies and securely storing them. Electronic document sharing is made simple with Business Management Software. It integrates effortlessly with the business, giving customers a uniform identity. It balances accessibility and security, allowing employees to work independently and save time.
Enhance Your Business Management Software ROI Sign Up 14 Day Trail
This software lets you access vital information from any location and keeps track of documents that need to be reviewed and approved by other employees. It enables you to respond to client inquiries more swiftly. The software also provides excellent customer service, which leads to increased sales. Off-site storage expenditures such as filing, duplication, and retrieval are eliminated with Business Management Software, decreasing downtime in the event of an emergency.
How Does Software Create New Business Opportunities?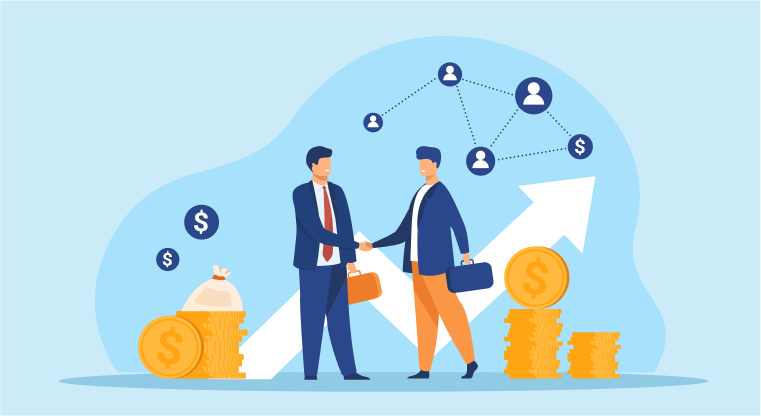 Most advanced software solutions for growing organizations have an All-in-One package that includes all business fields like sales, marketing, HR, operations, support, developers, productivity, collaboration, and browser extensions. Customer conversions are vital for attaining sustainable growth because customers are the core of any business. Technology isn't just used to automate procedures in successful firms; it also offers new methods for doing business. Technology is all about business innovation and doing things differently to create better products, solutions, and improved customer service.
Business Management Software regularly addresses operations like lead creation while tracking and maintaining subscribers. It provides you with all of the current tools you need to expand your business in today's highly competitive market. The software saves money by automating regular tasks and increasing employee productivity. It boosts workplace efficiency by streamlining operations and accounts while opening new business opportunities.
Productivity software can aid businesses in increasing operational efficiency, eliminating time-consuming paper-based operations, and lowering expenses. Office productivity software, accounting software, communications software, and email software are among the most widely used productivity software packages. Customer acquisition and retention are also factors in business growth. Therefore, firms continually provide excellent customer service by adopting Business Management Software.
How Does Software Unlock the Value of Data?
Unlocking the value of data is a difficult task because it comes in various formats. It frequently requires cleaning and deduplication, and there are usage constraints to consider. Business Management Software collects data and either turns it into a single storage container or aggregates it into a unified resource, such as a database. Business Management Software generally considers further long-term goals, such as comprehensive data security, integrity, and interactive inquiries.
Business Management Software's capacity to organize various types of queries is critical to its function in delivering processed information when it's needed. This regulates the maintenance burden on a system and answers crucial concerns concerning data security and compliance with standards or regulations relevant to an industry or field.
Information can be digitized and stored online, which saves space and unifies and centralizes it for quick access by those who require it. As the business grows, data grows in size, and efficiently storing this data becomes a priority for the organization. Organizations must create and upgrade their technological framework to continue to provide consistent service for those who use this data.
Utilize Multiple Ways to Prove ROI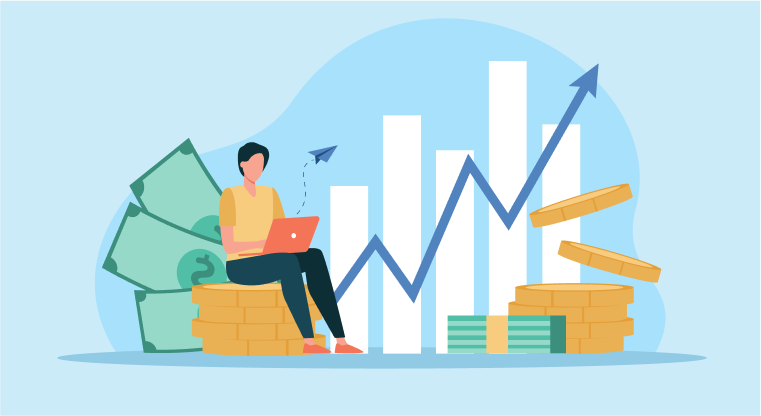 Your business goals and the challenges that need to be solved with technology determine the best strategy to demonstrate the benefit of the software. Apparent improvements in metrics are usually beneficial, but it's also crucial to demonstrate the software's new capabilities, such as the capacity to collect and manage data. Investment can be justified by demonstrating how adopting new technology can save time and money or create new opportunities. Moreover, you can show how advanced technology generates high business management software ROI than existing technology.
The purpose of using newer softwares is to increase the revenue by streamlining the organization's workflow, competitive edge, and decision-making abilities. Therefore, a definitive way to prove your ROI can be to list all the areas where you believe your purchased software helps you increase income, cut costs, or improve customer service.
Conclusion
Supporting your firm with powerful software that provides actionable insights, ensures high yield, and provides a superior customer experience justifies the ROI of your Business Management Software. It benefits the company by speeding up operations and reducing customer response times, resulting in a better user experience and more efficient workflow.
500apps has created an all-in-one suite of 50+ applications for all businesses to surpass their competitors by taking full advantage of Business Management Software Technology. It is a software brand trusted by over 30,000 organizations. 500apps brings quality software applications at very reasonable pricing, guaranteeing 24/5 support through chats, calls, emails, and webinars. The brand focuses on global business compliance by offering business operations in 6 locations and 12 languages.
All in all, you can easily transform your business and ensure high customer satisfaction by using the application bundle offered by 500apps.
Why Choose 500apps?
#1
All-in-One Suite with more than 50 apps
#2
Everything you need today and in the future for all departments
#3
Unbelievable value - the lowest pricing you will ever find
#4
Hosted in 6 locations for compliance and blazing speeds
#5
24/5 Support - FREE chat, email and phone
#6
Uncapped features - limits you will never reach humanly
#7
Managed and maintained everyday by a dedicated team
#8
No downtime - comes with a 99.9% uptime guarantee
#9
Supports a number of international languages
#10
We've everything covered - 90k+ trust us with their business
Join the SaaS Revolution
All-in-One Suite of 50 apps

Unbelievable pricing - $14.99/user

24/5 Chat, Phone and Email Support